Maharaj lived a life of practical vedanta from 1909-2004, was considered as an incarnation of Lord Dattatreya
Early Days
Shree S. S. Ganapatrao Maharaj was born at their family residence in Kannur village (Bijapur District, Karnataka State, India) to Shree Shivarampant and Shrimati Saraswati on the day of Ganesh Chaturthi festival on September 18, 1909 the birth day of Lord Ganesh. He was appropriately named Ganapati.
He had a keen desire to have darshan (vision) of God right from his childhood days. He had his primary and high-school education in Bijapur. He loved the company of Saints and had a great inclination towards spirituality, right from those days. If there were any spiritual programs in Bijapur he would be there for every function, be it a Kirtana or spiritual discourses from seers.
A telling example of his lofty values is when the school authorities were once testing students for their virtues. On that occasion Shree. Maharaj firmly declared that he would never tell a lie, even if it meant losing his life!! At the tender age when right and wrong meant no more than words his thoughts earned him a name in the school as an ideal student.
View blissful Photos of Shri S.S. Maharaj in different moods, occasions
Important Life events of Shri S. S. Maharaj depicts how his spiritual journey has been.
Becoming DIsciple of Shri Siddharameshwar Maharaj
Shrimati Rukmakka, his father's sister who had taken initiation from Shree. S. S. Bhausaheb Maharaj (Guruji of Shree S.S, Siddharameshwar Maharaj). She once said to Ganapati , "if you want to have Darshan of God, you should surrender yourself to Sadguru. He will show you God". Accordingly on the auspicious day which determined the course of life of Ganapati occurred in 1923 , when he was initiated by Shree S. S. Siddharameshwar Maharaj. He felt uplifted and at peace, and carried out the Sadhana as instructed by Sadguru. He meditated and performed Bhajan every day without fail. With intense sincerity, complete faith and devotion, eagerness to acquire Jnana endeared him to the Sadguru.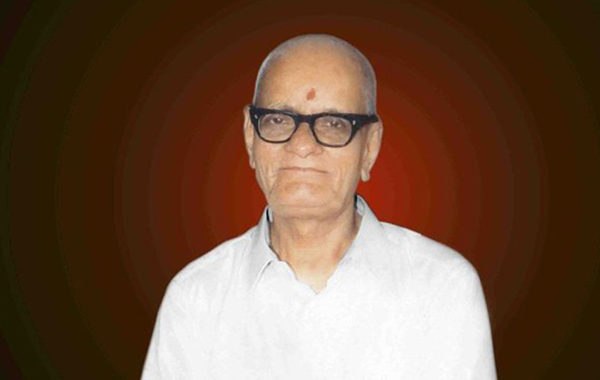 Once Shree S.S. Siddharameshwar Maharaj was having discourses for three days, delivering the message "you are Atman, who is Chit (supreme consciousness) incarnate. It is you who puts life in this inert body". When the discourses were over, in order to test how well the disciples had imbibed the message, Shree Sadguru Maharaj asked the audience "can anyone infuse life in a dead body and make it stand up? " The listeners were dumb-struck upon hearing this unusual question. Nobody dared to stand up and say "I can". But young Ganapati boldly stood up and voiced "Sadguru Maharaj, I have infused life into this lifeless body and have made it stand up as per your instructions". Shree Sadguru Maharaj was extremely happy that he had such a wonderful disciple in Ganapati. Ganapati was just 14 at that time!
College Education
Dispassion and eagerness to know the spiritual truth grew stronger with time. Although school education was also continuing simultaneously, he gave much more importance to the teachings of the Sadguru than to the teachings at the school.  He passed his matriculation examination in 1927. His college education was in Willingdon College, Sangali in the first year, Karnatak College, Dharwad during the next year and Fergusson College, Pune during the next two years. He graduated in 1932, earning a B.Sc. Degree. Even during college days, he did not ignore his daily spiritual Sadhanas and sought the spiritual company of his Sadguru, whenever he could find time. Whenever Shree S. S. Siddharameshwar Maharaj blessed his disciples for a few months every year by staying at their residences in Mumbai, Ganapati visited his Guru often.
Shree Ganapatrao Maharaj Quotes
The appearance of 'I' is fake attachment and pride with it is bound to bring misery.
You need lot of strength to forgive; it is the characteristic of a brave man.
Those who fail to enjoy the blessings of supreme bliss are indeed unfortunate.
Early days with his spiritual master
Prior to formation of the Shanti Kuteer Ashram in Kannur, the central place of our Sampradaya had been the holy place Inchgeri. Three Sapthahas were celebrated in Inchgeri every year, where special discourses were given – these increased the impetus to the Sadhana of the seekers. Shree Maharaj attended all the Saptahs without fail and also did service during that time. During a Saptah in Inchgeri in 1933 A.D. Shree Siddharameshwar Maharaj said to his disciples I am ordering you to take Sanyasa for one year. Who is ready to take it up? Immediately upon hearing this, Shree Maharaj stood up and said he will do it. After this 7-8 other disciples also came forth.
The Sanyasi disciples were instructed to follow the following rules:
Not ask for anything from anyone and if necessary beg for food from others, that too only once a day, in the afternoon.
Carry only articles that are absolutely essential, these could include a few spiritual texts. It was a test by fire for the disciples.
Passing away of Father and his Master
In 1934 A.D. Shree Maharaj's  father passed away and two years later in 1936 A.D. Shree Siddharameshwar Maharaj laid down his mortal coil in Mumbai. These two heart rendering events were endured with stoic calm by Shree Ganapatrao Maharaj, because of his firm grounding in spirituality.
Shree Maharaj continued his Sadhana with renewed determination for the next 14 years at different locations like Sitimani (on the bank of river Krishna), pilgrim centers like Audumbar and hill station Mahabaleshwar. He stayed there for months together submerged in his intense Sadhana, and reached the final goal and became a Siddha or a realized being.
He studied the Upanishads, Bhagavad-Gita, Bhaagavata, Jnaneshwari, the six texts of Shiva-yogi, Vichaar Saagar in Hindi and others. Such extensive reading coupled with his supreme spiritual experiences resulted in his reaching the state of lasting satisfaction, perfect equanimity.
He became an embodiment of virtues like compassion, pardoning the mistakes of others. Even during this period of Sadhana, he still went to Inchgeri without fail and attended the Saptahs, and served with body and mind.
Shri Maharaj's discourses were supremely illuminating. Since his words flowed from his own experience coupled with deep and wide knowledge, the discourses were simple, direct and had a powerful effect on the audience. Many spiritual aspirants came forward, requesting him to grant initiation. The first spiritual seekers to be initiated by him were Shree Sangappa Desai Gowdar and Shree Gurupadappa Talkal.
Shree Maharaj continued the task of spiritual upliftment (Lokoddhara) continuously for over 55 years. He guided his hundreds of disciples through innumerable ways like discourses, letters, through writing texts on the various aspects of Sadhana and other means. Despite his fame reaching all corners Shree Maharaj shunned pompousness and stayed away from performing miracles.
People were instantly attracted by his loving, peaceful nature and enlightening discourses. A vast number of people from big cities like Hubli, Dharwad, Sangli, Pune, Mumbai and villages like Arjanal and surrounding places, Domnal, Kakamari took initiation from him. The disciples of Shree S. S. Vilasanand Maharaj from distant cities like Delhi and Agra used to come and meet Shree Maharaj. Due to certain reasons, Shree Maharaj shifted from Inchgeri to his ancestral lands on the outskirts of Kannur village. A small cottage was built there and was named Shanti Kuteer. All the Saptahs were performed there. Starting with a small cottage in 1951, Shanti Kuteer expanded into a concrete structure by 1961.
It has now grown into a big spiritual center with over a hundred rooms, a spacious hall for celebrating Saptahs and a big kitchen and store room, dining hall that can seat thousands of devotees, and all other amenities. At Shanti Kuteer, no distinction is made on the basis of caste, creed, color, age, language or any other criteria. All those with sincere spiritual aspirations are welcome.
Shree Maharaj Established Bharatiya Surajya Samstha  for the very purpose of building awareness in society based on morals and honest principles.He published a number of small books describing the goal and the means of achieving the ultimate goal of a human, translated some important texts of Samarth Ramadas, Shree Bhausaheb Maharaj , Shree Siddharameshwar Maharaj to Kannada and Marathi from originals under Adhyatma Bhandar Publications since 1949
It is no exaggeration to say the nation has been uplifted because of the presence of such great Mahatmas and more so by our Sadguru.
He believed spiritual festivals attract seekers to come under one roof and devote time to self realization. Three Saptahs, called Chaitra Saptah, Datta Jayanti and Shravana Saptah take place annually. At the end of the Shravana Saptah on the fourth day, bright half of the month of Bhaadrapada, i.e. on the Ganesh Chaturthi, the birth day ceremony of Shree Maharaj is celebrated with intense spiritual fervor. The Saptahs held on the 60th, 65th, 70th, 75th, 80th, 85th, 90th birthday-ceremonies of Shree Maharaj were marked with intense fervor and devotion.
The 95th birthday celebration on September 18, 2004 was the biggest. Shree S. S. Maharaj was very unwell at the time because of his advanced age. Never the less, he came on the dais with assistance and in spite of feeling very sick, blessed the huge assembly by his immensely benevolent sight.
Two days later after 2004 Saptah, Shree S. S. Maharaj laid down his mortal coil and merged into the ocean of bliss of the lord.
Shree S. S. Maharaj did not preach any new philosophy. His teaching, to put in a nut shell, was "Aham Brahmasmi" or "I am Brahman". But the supreme eminence of his teaching was that he explained it systematically in simple language, so that even a common man could follow it easily. Some key topics which Shree Maharaj gave lot of importance were:
The importance of this birth as a human being.
The need to take up spiritual path of the four-fold Sadhanas
The importance of listening to discourses.
Contemplation of what is heard and bringing it into practice.
The Jiva is really Shiva: therefore every being is full of Ananda (bliss) in his basic state, which should be experienced.
Sadguru's Wish
Every Sadhaka should lead life for the good of his own, his society and the nation.
Sadguru Quotes: The time for sadhana is when the mind turns inwards for introspection.